Contact: LaNeece Jardon
Core Services Manager
ljardon@independenceinc.org
841-0333 ext. 112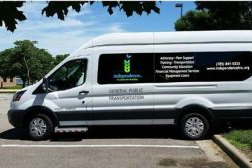 ►Call 785-843-5576 to schedule a ride
►Hours of operation are Monday-Friday, 8:00-4:00
►Download our Transportation Brochure HERE
►Purchase Ride Punch Cards below:
Rides within Lawrence city limits will be $3.00 each way
$30—Punch card to be delivered to you by driver on your next ride (10 rides @ $3 each)
Rides within Douglas County limits will be $5.00 each way
$50—Punch card to be delivered to you by driver on your next ride (10 rides @ $5 each)
Out-of-town medical rides to the KC Metro and Topeka will be $30

We accept Medicaid for non-emergency medical transportation.
Contact Modivcare 877-796-5847 to schedule a Medicaid ride

Ridership Policies Q & A Topics
►Who can ride the bus?
Service is available to the general public.
Pursuant to Kansas law, children under 8 years old must use appropriate child safety seats or booster seats. If not provided by the parent or guardian, with advance notice, one will be provided Independence, Inc.
All children sixteen years old and under must be accompanied by an adult.
►How to schedule or make changes
Services are available throughout Douglas County. Limited service to medical centers in Kansas City, Topeka, and Leavenworth are available.
Reservations are taken Monday through Friday from 8:00 AM to 4:00 PM.
Due to the way Independence Inc. schedules rides and the method used to route vehicles, we do not allow a change of ride destination the day of the ride. You may not board the bus and ask the driver to change your booked destination.
►Cancellations and No-Shows
Cancellations. Any cancellations made an hour or less prior to the scheduled ride time will be treated as a no-show. Cancellations may be left on the voice mail system at any time of day.
No-Show Policy: A "no-show" is defined as a passenger scheduling a ride, then failing to take or cancel the ride as scheduled. A passenger having three no-shows in a 90-day period shall be suspended from ridership for 30 days. A letter of warning will be sent after each no-show in a 90-day period. A passenger may appeal a suspension through the grievance procedure process. Rides will continue during the appeal process. Special consideration will be given for no-show situations during inclement weather.
►Days and Times of Operation
The service runs from 8:00 AM – 5:00 PM Monday through Friday. Final rides begin at 4 pm. When the office is closed, ride cancellations may be left on the voice mail system. The service will observe these holidays on which no service will be available: New Year's Day; Martin Luther King Jr. Holiday; Presidents Day; Memorial Day; Independence Day; Veterans Day; Labor Day; Thanksgiving Day; and Christmas Day.
►Pick-up times and wait policy
Passengers need to be ready for pick-up ten minutes prior to the scheduled arrival time of the bus. Drivers who arrive during the ten-minute window will wait for only five minutes for a passenger before departing.
Upon arrival, the driver will immediately notify the passenger that s/he is there. If the driver cannot make contact with the passenger, Independence, Inc. will assume the passenger is declining the ride, and this ride will be considered a no-show. Any other rides previously scheduled for the day will be automatically cancelled.
►Delays
Due to the number of rides we provide, it is not always possible for buses to run exactly on schedule. It is important for you to allow extra time to assure your scheduling need can be met.
►Personal Assistance to Riders
Due to scheduling demands, drivers must limit personal assistance to consumers. Drivers are permitted to assist consumers with activities directly related to boarding or debarking the bus. For those consumers who need it, drivers may assist with coats, packages, and doors.
Consumers may bring grocery and personal items purchased at stores on the bus, but limited to what the consumer and the driver can carry to the dwelling in one trip. Consumers may not expect the service to transport furniture items, including televisions, gardening items such as potting soil, or any items of weight exceeding 15 pounds. Drivers will be responsible for passengers entering and exiting the bus safely.
Personal care attendants are permitted to ride with consumers. Drivers are not permitted to lift individuals required or wanting to transfer from a scooter or wheelchair to regular vehicle seating. Such riders must provide their own personal care attendant to assist in their transfer.(Such attendants will be permitted to ride without charge.) REMINDER: Children sixteen years and under must be accompanied by an adult.
►Procedures for Wheelchairs and Other Equipment
Drivers will assist consumers only on approved wheelchair ramps. Drivers will not assist passengers in wheelchairs up or down stairs. Consumers using scooter-type vehicles may transfer to regular seating for the ride.
Equipment such as wheelchairs, oxygen, walkers or canes must be properly secured by seat belt, by vehicle tie-down, or by the passenger.
►Conduct and Hygiene
Inappropriate conduct, including behaviors that present a danger to other riders will not be tolerated. These include but are not limited to: intoxication; fighting; arguing; threatening the driver or fellow passengers; use of foul language and sexual harassment. Individuals who are habitually incontinent, or have offensively poor personal hygiene will be denied bus services. Independence, Inc. and our buses are scent free; no strong perfumes or scents are allowed. At the driver's discretion, a rider who engages in persistent inappropriate and/or dangerous behavior, can be required to vacate the vehicle. Drivers, with approval of dispatch, may put a rider off the bus or call authorities if necessary. No food, drink, or tobacco products of any kind may be consumed on the bus.
►Pets/Service Animals
Only service animals will be permitted to ride on the system.
►Fares
Cost for all rides within the City of Lawrence are $3.00 each way.
Cost for all rides within Douglas County are $5.00 each way.
Cost for all rides to Topeka, Leavenworth or the Kansas City Metro are $30.
►Payment
For city and county rides, for your convenience, punch cards may be used to pay. They may be purchased by electronic check or credit card on this website or by calling 785-843-5576.  Alternatively, they may be purchased by check or cash at Independence, Inc. 2001 Haskell, Lawrence, KS between 8:30 AM and 5:00 PM Monday-Friday. Drivers also accept cash. Exceptions or exemptions are at the discretion of the Co-Executive Director.
For out-of-county rides, payment may be made in advance of trip by electronic check or credit card either on this website or by calling 785-843-5576.  Alternatively, they may be purchased by check or cash at Independence, Inc. 2001 Haskell, Lawrence, KS between 8:30 AM and 5:00 PM Monday-Friday.Drivers also accept cash. Exceptions or exemptions are at the discretion of the C0-Executive Director.
►Grievance Procedure
This grievance procedure has been developed to assure consumers of fair and equitable access to the Independence Inc. transportation system.
When a consumer has any problem, the following procedure should be followed to resolve the conflict: Each consumer is expected to communicate directly to the Co-Executive Director regarding ride-related actions, occurrences or attitudes perceived as unfair and inequitable. A consumer who believes he/she has suffered a grievance should discuss the matter with the Co-Executive Director within five working days of the occurrence of the alleged grievance in an attempt to arrive at a satisfactory solution. The Co-Executive Director will have five working days to respond, making every effort to resolve the grievance at this level. If a resolution is not reached, the grievance must be described in writing and submitted to the Board of Directors. The Board of Directors will review the evidence presented by the party bringing the grievance and by the Co-Executive Director within fifteen working days and will provide a decision in writing to all parties involved. The Board of Directors' decision is final. If the above-described steps fail to resolve the grievance, the consumer may file administrative or legal action available according to local, state or federal law. By mutual agreement of the parties involved, the time limit of the grievance procedure may be extended. Note: A grievance is defined as any difference between a consumer and driver(s) or the administration or Board of Directors of Independence Inc. as to the meaning of operational policies and practices.
►Bad Weather Policy
If the management of Independence Inc. jointly agree the weather is so severe it is unsafe to operate, then operations will cease for the day in question. Radio stations KLWN-AM, KANU-FM, and Channel 6 will have weather-related announcements regarding Independence Inc. services during times of bad weather.