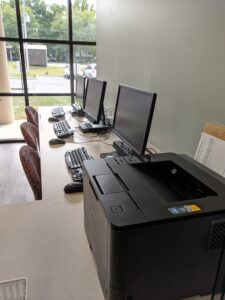 The Independence, Inc. computer lab is a fully accessible computer lab. The lab consists of 5 personal computers, equipped with large wide screens, a variety of software, including word processing, spreadsheet, database, and typing instruction programs. The computers are equipped with a variety of assistive technologies to insure their accessibility to all individuals. Our assistive technology includes screen readers for Windows, screen magnification, voice input, alternative keyboards, trackballs, keyboard modification software, scanners and a Braille printer.

►

Hours of Operation
The computer lab is open to the public Monday through Friday, from 8:30 am to 4:45 pm unless otherwise posted.
►

computer lab Rules
No food or drinks by the computers. Please place on the table next to the door.
Children are acceptable if they are accompanied by a responsible adult and able to maintain a quiet environment. We reserve the right to ask you to leave for the day if children are disturbing other persons.
Maintain a G-rated environment.
Printing is available in black and white and is $0.10 per page. Pricing subject to change but will be posted.
►

Computer Assistance

If you need assistance in the computer lab, one of our Independent Living Specialists will be able to work with you by appointment.
►

available software
Word 2007 (word processor)
Excel 2007 (spreadsheet)
PowerPoint 2007 (presentation)
Outlook 2007 (email)
Access 2007 (database)
Windows 7 (operating system)