KanCare/Medicaid
Are you struggling to resolve your KanCare/Medicaid issue? Having trouble getting your questions answered? Contact the KanCare Ombudsman:
Phone: 1-855-643-8180
Email: kancare.ombudsman@ks.gov
Website: https://www.kancare.ks.gov/kancare-ombudsman-office/contact-us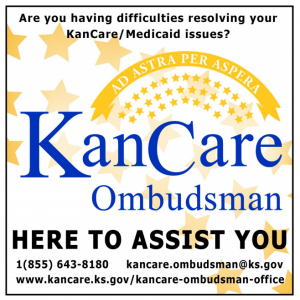 Our Independent Living Specialists here at Independence, Inc. are also available to assist you with questions and concerns. Call or email us to see what we can do for you!