Contact: Daniel Brown
Core Services Manager
dbrown@independenceinc.org
841-0333 ext. 121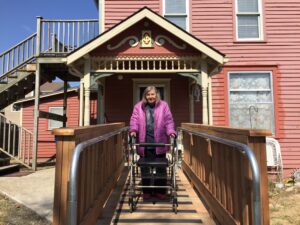 The Independence, Inc. Accessible Housing Program (AHP) is a home modification program funded through the City of Lawrence Affordable Housing Trust Fund and is managed and administered by Independence, Inc. The grant serves to assist people with disabilities and low incomes in Lawrence, Kansas make needed accessibility modifications in their home.  To qualify, a person must have a disability to which the requested modification is directly related, have income below 80% of the area median, live within Lawrence, KS city limits and may either own or rent their home, mobile home or apartment, with landlord consent if renting. Other factors and qualifications may apply.  Common modifications made by qualified contractors include but are not limited to: entry ramps, low-rise steps, hand rails, roll-in showers, accessible height toilets, grab bars and more.
For more information on the program see our Accessible Housing Program Information Sheet 2022
To apply now:
► Download/print the required forms
► Stop by our office in person and pick up an application packet
► Request an application to be sent by email
► Call us to have an application packet mailed to you
Contact Daniel Brown to learn about the current availability of this grant or other resources that can assist you make needed accessibility modifications regardless of where you live in our tri-county service area.