Celebrating Universal Design and Accessible Health Care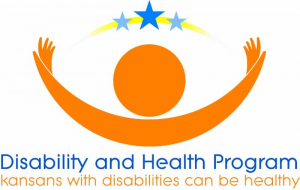 Access to quality healthcare is critical for all – regardless of age, ability, gender, size, etc. And not just access to the provider, or parking, or even to the building itself, but access to the exam rooms, the bathrooms, the exam tables and chairs, and perhaps most importantly, the equipment needed to assess an individuals health. Thanks to a collaboration between Independence, Inc., the KU Institute for Health and Disability Policies and the recently CDC Grant-funded Kansas And Disability Health Program, we have had the privilege of helping to assess how usable local health care sites are for people with disabilities through the Community Health Environment Checklist (CHEC). Whew, that's a mouthful – but what important information this is to digest!
Through the CHEC program, Bob Mikesic, Independence, Inc. Co-Executive Director, visits Health Care centers and is able to have open dialogue over what is great about the facility concerning usability/accessibility and what, if anything, could use some improvement. Issues such as accessible parking spaces, entrance to the building, bathroom accessibility – toilet height, grab bars for transferring and space for maneuvering a wheelchair – and exam room accessibility, exam table height/ability to transfer to the table and ability to access equipment, are all assessed. Waiting rooms, optical showrooms, and other spaces may be assessed as well. Recent CHEC Assessments at the Internal Medicine Group – LMH West and the Lawrence Family Vision Center have returned wonderful results and earned them a Certificate of Appreciation for improving accessible health care for people with disabilities. (see articles below)
---
Lawrence Family Vision Clinic
Clear vision goes beyond the assessment and treatment of their patients at Lawrence Family Vision Clinic. It can also apply to the foresight they exercised in the vision of their company. According to Mily Boone, LFVC office manager, when the need for an additional exam room was identified nearly 20 years ago, they knew what they needed to do – make sure it was a fully accessible space, including the exam "lane", the area where initial testing is done before meeting with the doctor.
Accessibility could have meant providing enough space to allow someone with mobility limitations to transfer from a wheelchair for example, into the exam chair. But the "clear vision" of Dr. Dennis Hoss, O.D. and his team at the time, went a step beyond. They created an exam lane where transferring wasn't necessary. A patient who uses a wheelchair or scooter for mobility can access all exam equipment while staying in their mobility device, no transfer necessary. A fully accessible exam room was also created where more comprehensive testing occurs. In this exam room, a person using a wheelchair or scooter simply sits in front of the more traditional exam chair and the fully adjustable exam equipment moves to meet the individual where they are sitting. This is an excellent example of Universal Design. And in a world where many barriers still exist for people with disabilities accessing bathrooms, exam rooms and equipment, this is a win!
"We want to make sure we are welcoming to everybody" said Mily. "Even in the Optical (showroom), we want to make sure that area has a good layout for all people to be able to easily move around when working with an optician".  Because the ADA Standards for accessing buildings don't include detailed specifications for exam chairs, tables and equipment, we thank you Lawrence Family Vision Center for going a step beyond, for your "vision" and work to provide such accessible facilities and eye exams!
---
Internal Medicine Group/LMH West
If you don't have a disability, you may go to your doctor for illnesses and regular checkups without ever thinking about things like how high the exam table is, how much pressure the door has when opening and closing, the height of the counters, how wide the hallways are or how you will be weighed to ensure accurate dosage of medications. Visiting your doctor may be a common occurrence with little if any obstacle.  But for millions of people with various disabilities, age-related mobility issues, or weight or height that makes standard equipment hard to access, visiting the doctor may be more challenging than routine.
The CHEC assessment through the Kansas and Disability Health Program is a fabulous tool available to Center's for Independent Living like Independence, Inc., used to open up the dialogue about accessibility and measure how usable public spaces are for people with disabilities. The Internal Medicine Group at LMH West is a great example of a healthcare facility that has worked and planned over the years to make sure they provide this type of usable space. "Sensitivity to the problem (of accessibility issues) and paying attention to that, just noticing things over time" said Dr. Gregory Schnose when asked how such an accessible practice came about. "Moving to a new building (in 2005) was the ideal opportunity to correct those things (that needed correcting). Dr. Schnose and his colleagues relied on input from patients and staff as well as ADA guidelines to make sure their new space would be accessible to all – wider halls, larger doorways and exam rooms, adjustable height exam tables and a wheelchair accessible scale were all on the wish list. "I've seen the improvements from when you were over on Harvard Road" said Bob Mikesic, Independence, Inc. Co-Executive Director, commenting on the current building. "This building is amazingly accessible for people that come to receive services" he said.
Bob performed the CHEC assessment and had the opportunity to go over the results and to present Dr. Schnose and Ellen Herman, IMG Director, (pictured above) with a Certificate of Appreciation for high marks on building and equipment accessibility. Thank you Internal Medicine Group, for your hard work in offering a great healthcare facility accessible to and usable by people with disabilities!
---
What is Universal Design?    
"Universal design means products and buildings are accessible and usable by everyone, including people with disabilities" (source: Center for Inclusive Design and Environment Access). While Accessible Design is important – products and buildings accessible by people with disabilities – Universal Design goes one step further – spaces and products built to include people of all abilities, size, gender, age, stage of life, etc. Whereas Accessible Design can lead to separate spaces and entrances for people with mobility issues, Universal Design is inclusive – everything is built with all people in mind (i.e. an entrance with no stairs, an eye exam room where a chair user doesn't have to transfer to an exam chair, a lobby with enough room for moms with strollers, people with chairs and other mobility devices, counters and tables for all to reach, etc.) Although some of these forward-thinking and proactive design elements may not be required by ADA guidelines and may go beyond some of the basic accessibility features assessed on the CHEC form mentioned above, Universal Design is a major and important advancement in thinking and design and is certainly celebrated when we see it!